Meeting Spaces
When it comes to events, one size certainly doesn't fit all. Which is why Sheraton Grand Macao Hotel has a smorgasbord of 16 venue options for event planners (13 fully flexible meeting spaces and three outdoor event venues), making it the host with the most for events of all shapes and sizes.
Pick and Choose
Step into the impressive space of the 52,646 square ft (4,891 m²) pillar-less Kashgar Grand Ballroom, a venue guaranteed to make a lasting impression on your guests. Design details reminiscent of the Silk Route combine with elegant high ceilings to offer an atmospheric, yet versatile space suited to events of all sizes and genres. Glitzy gala dinners in banquet-style for 4,056 people are perfectly suited to the space in its entirety, but for smaller events and conferences, the Kashgar Grand Ballroom can be divided into up to 16 smaller meeting rooms.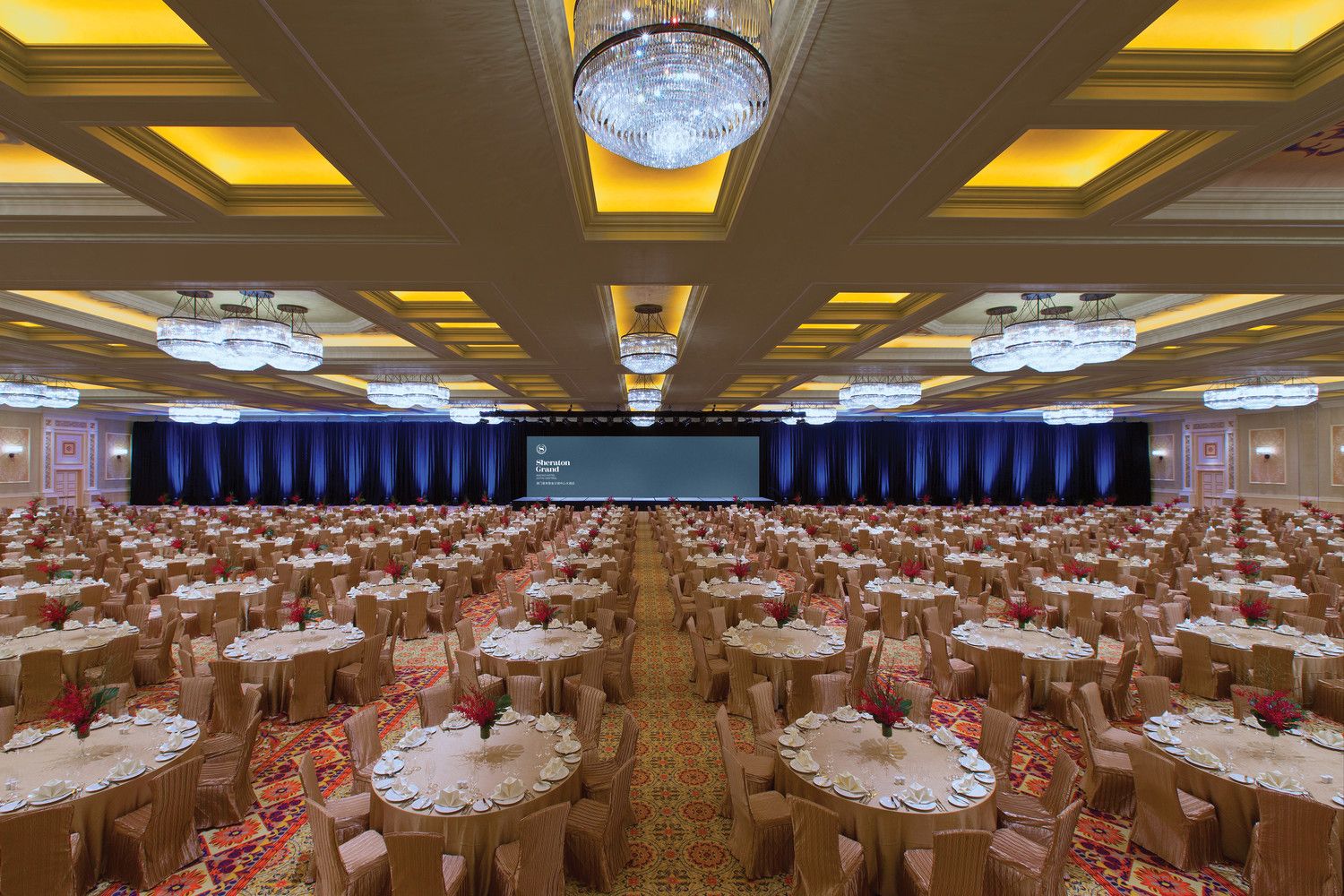 Junior Ballrooms
Six junior ballrooms offer further diversity, along with another three junior ballrooms within the Sands Cotai Central complex, making a total of 214,000 square ft (20,000 m²) of flexible event space, divisible into a total of 166 meeting rooms and accommodating everything from a 5,265-guest theater-style presentation to an intimate boardroom meeting for 12 - Macao's most diverse and flexible range of meetings facilities.
Rethink Meetings
But if you're looking for something a little outside of the box, why not go poolside? Featuring extensive decking and lush landscaping, each of the three pool areas Jaya, Sala and Tiki offer great scope to let your imagination run wild and create a truly memorable and unique event. Picture chic cocktail parties under the stars, relaxed barbecue-style lunches or festive pool parties complete with live music. The possibilities are endless.
Contact Details
For more information on all conference, meeting, event and wedding experiences, please contact:
Explore our MICE offers here
Features, Services & Amenities
Kashgar Grand Ballroom, offering a grand pillar-less space of 52,646 square ft/4,891m², with the option of dividing the floor space into 16 smaller breakout rooms
6 junior ballrooms with access to another 3 junior ballrooms, all of which are divisible
3 restaurants, 3 poolside cafés or lounges, 1 lobby lounge
3 outdoor pools with pool decks spanning 129,166 square ft/12,000m², ideal for partiesVideo system: Projectors, screens, plasma TV display and video distribution